Leather wallet with iPhone 6/6s/7/8 case dark brown
Leather wallet with iPhone 6/6s/7/8 case dark brown
---


THE WALLET'S FEATURES
- iPhone 6, 6s, 7 & 8 case (Apple Pay compatible)
- 5 credit card slots
- cash slot (fits USD, EUR or GBP banknotes)
- extra large slot beneath credit cards
- top-quality Italian leather
- dimensions: 5.75 x 3.7 x 0.55 inches (146x94x14 mm) More
Product code: WC6PTShipping and Payment
Standard price $ 112. Save 40% ($ 45) $ 67


THE WALLET'S FEATURES
- iPhone 6, 6s, 7 & 8 case (Apple Pay compatible)
- 5 credit card slots
- cash slot (fits USD, EUR or GBP banknotes)
- extra large slot beneath credit cards
- top-quality Italian leather
- dimensions: 5.75 x 3.7 x 0.55 inches (146x94x14 mm) More
Product code: WC6PTShipping and Payment
Wallet with iPhone case
Compromises? No, thanks. We designed the minimalistic, elegant wallet you seek and the iPhone 6/6s/7/8 case you need. Then we combined the two, resulting in a highly functional wallet that accommodates your cash and credit cards, but also offers a fully-fledged case for your iPhone. We make it from the finest Italian leather and use precise, age-old manufacturing techniques that ensure this wallet is of top quality and style.
Apple Pay compatibility
Not only does your iPhone fit perfectly into the wallet, it also remains functional. Thanks to our smart design, you can easily use Apple Pay without pulling out your phone. Simply put your thumb on Touch ID and pay.
It's a wallet with iPhone case. Not the other way around.
This is not your typical iPhone case that, just by the way, you can also use for a credit card or two. It's a fully functional, perfected wallet that understands a modern man's life, and thus protects his phone as well.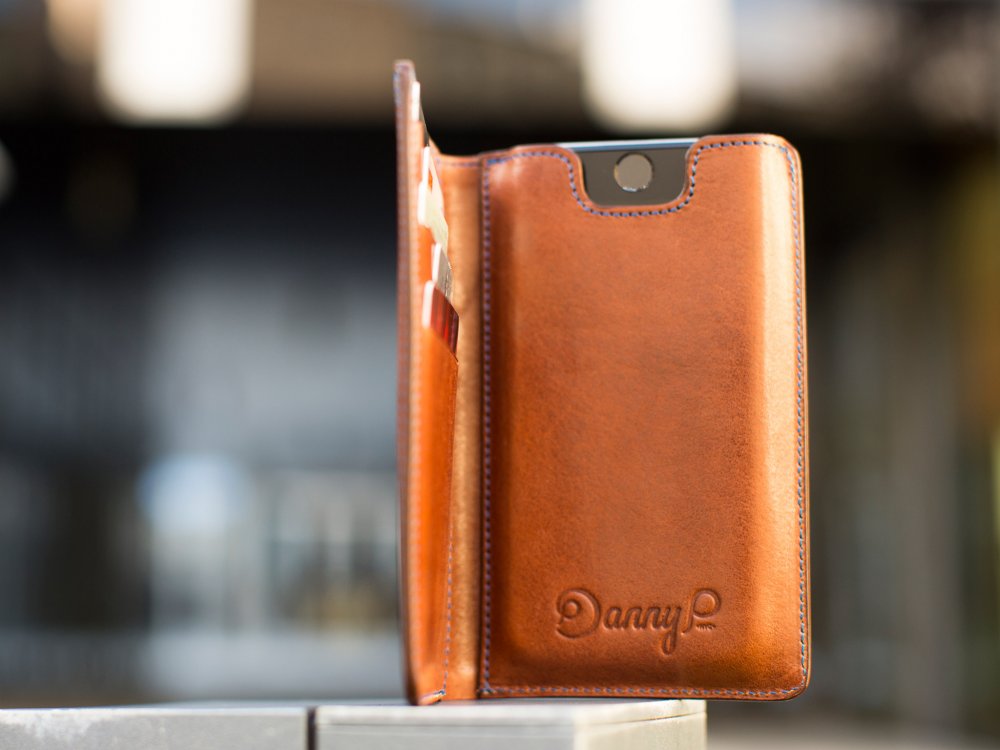 Your wallet, your initials
You can enrich a wallet with a customized initials (DP or D.P.), name (Danny or DANNY) or design (logo, coat of arms). The personalization will be placed on the inside left side of the wallet right below the card slots. Due to the manufacturing process of the personalization, please allow several business days for the delivery time to be extended.

Since they are customized, personalized products do not come with our 30-day money-back guarantee; however, we will uphold the classic guarantee for manufacturing defects.