Leather belt with stitching black
Leather belt with stitching black
---

FEATURES OF THE BELT
- 100% leather with no additions or unnecessary fillings
- waistline up to 44.28" (115 cm)
- free custom resizing
- belt width 1.3" (3.3 cm) More
Product code: BSBShipping and Payment

FEATURES OF THE BELT
- 100% leather with no additions or unnecessary fillings
- waistline up to 44.28" (115 cm)
- free custom resizing
- belt width 1.3" (3.3 cm) More
Product code: BSBShipping and Payment
Custom leather belt
We designed a clean and durable leather belt for men. You can choose between two types: with or without stitched edges. Whichever you go for, you can look forward to our usual top-quality leather with no imitations or synthetic fillings, three color options to choose from and different metal buckle finishes.

How to choose the right belt length
Your waistline doesn't equal the total length of the belt, but the length of the belt when it's worn on a convenient hole. Take an existing belt that fits your size and measure the length between the top of its spike and the seemingly most used hole. Don't measure the whole length of the belt. You can read more in the article below.

Your belt, your initials
You can enrich a belt with a customized initials (DP or D.P.), name (Danny or DANNY) or design (logo, coat of arms). The personalization will be placed 0.79 in (2cm) from the end of the belt so that it can be seen when the belt is fastened. Due to the manufacturing process of the personalization, please allow several business days for the delivery time to be extended.

Since they are customized, personalized products do not come with our 30-day money-back guarantee; however, we will uphold the classic guarantee for manufacturing defects.
Articles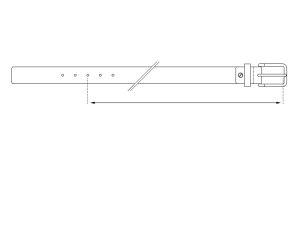 The waistline is not equal to the total length of the belt, but to the belt fastened to a suitable hole. Take an existing belt that fits you and measure it from the tip of the buckle to the most used hole. Do not measure the entire length of the belt from one end to the other.