"SIMPLISTIC BEAUTY. HARMONIOUS DESIGN & FUNCTIONALITY. THAT'S DANNY P."
FROM FIRST PROTOTYPE TO APPLE.COM
It's unbelievable how time flies - it seems like yesterday, when we were thinking about how to elegantly protect the edges of the brand new iPhone 5 from scuffing. It was the year 2013 and since then, we have managed to become the first Czech brand in official Apple Store, expand the product line with men's messengers, cases for golfers, belts or travel wallets and most importantly - move forward every day.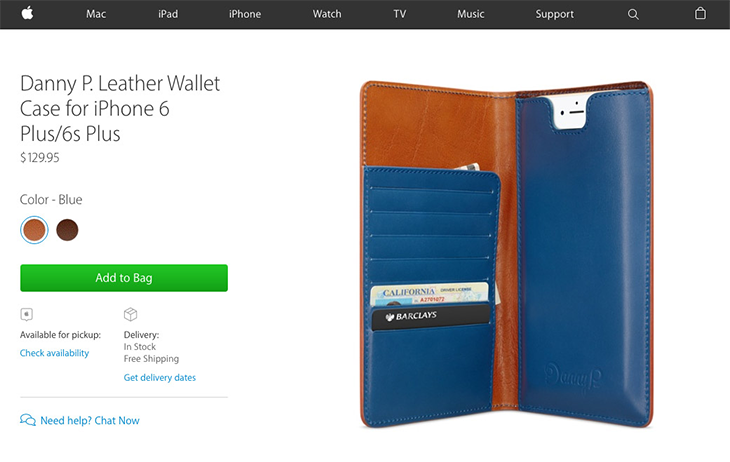 Our wallets listed on Apple.com
We are driven forward by the desire to be a motivator, partner and reward to anyone who does not leave their lives to chance and daily overcomes themselves on the road to victory. Our products do not try to attract all the attention and overshadow your personality. On the contrary. With its clean design and precise workmanship, it will complete your distinctive style. Danny P. accompanies customers on the path to success and helps them to be better every day.
FIRST IDEA
It all started with "Scuffgate" and a question: How can I protect my iPhone 5's black aluminum edges? I held off-putting mine in a protective case because, well, I liked admiring the phone's unique design and didn't want to cover it up in some cheap plastic case.

So, I started to brainstorm ways to fix my problem. There are two things I am never without – my iPhone and my wallet. So, why not buy a wallet case that could easily accommodate both my cash, credit cards and my phone?

It all started with "Scuffgate".
I searched the Internet but couldn't find anything adequate. Yes, there are plenty of wallet cases out there, but each model I looked at made the iPhone look like a prisoner. It was clear that my phone wouldn't be easily accessible stuck in one of those. Moreover, the compartments meant for cash and credit cards were small and certainly didn't look like they'd be big enough to fit my needs. I decided the only solution here was to manufacture my own leather wallet with a built-in case for my iPhone.
PROTOTYPE
I started with sketches and made my first prototype using paper and a stapler. When I was satisfied with the design, I asked my friends with iPhones whether such a case would be useful for them, too. I received positive feedback and decided to try and sell them under the Danny P. brand.

I started with sketches and made my first prototype using paper and a stapler.
ARCHITECT IN THE HOUSE
I already had an idea about the shape, material and colors I wanted to use, but it's the small details, I know, that will make this idea fly. So, I brought in my friend Lukas, who is a designer and architect. He was so enthusiastic about the concept, and we immediately started to work on this project together.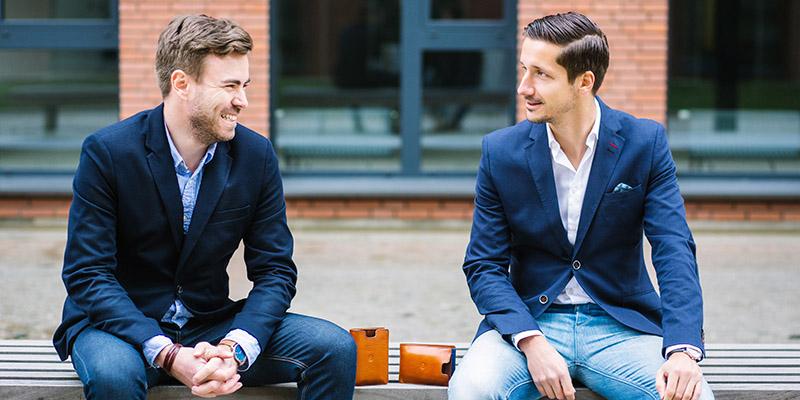 Lukas Vondracek [designer] & Daniel Piterak [CEO & designer]
MANUFACTURE
A few things were clear to us from the very beginning: if we want to conquer the world with a top-notch product, we must settle for nothing but the best possible materials, work with the most skilled people in the industry and produce our products where there's a proven track record.

Was it easy to find a manufacturer? Hardly. Was it worth the hours spent traveling, negotiating and being very picky in general? For sure. We finally found the perfect manufacturer in the heart of Europe - the Czech Republic. Unlike many others around the world, these guys have been working with leather for more than 100 years! We wish you could see how they work their magic. So, what was the result of traveling thousands of miles and talking to dozens of people we never thought we would meet and exploring places we barely knew existed? The Danny P. leather wallet with a built-in iPhone 5 case. It all started with skills, experience and tradition.

We are always working to improve our products and offer you a functional piece for your newest Apple device. But it's not just about innovation and functionality. It's also about designing a fashionable accessory, something extraordinary. Something that will be a symbol of motivation and desire to constantly improve in professional and personal life. Danny P. tries to get better every day and hopes that his customers want the same.
Most popular products