Protect your MacBook in style: The benefits of a leather case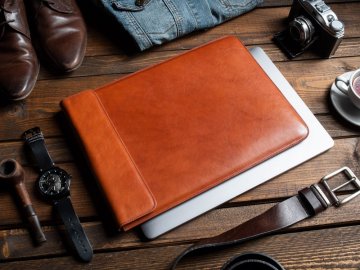 Wondering how to protect your MacBook? Discover the advantages of using a leather case for your MacBook and how it can safeguard your laptop. A leather MacBook case offers several benefits:
Protection for Your Laptop: A leather case protects your MacBook from damage and wear such as scratches, dust, and dirt. It also reduces the risk of damage to your laptop while traveling in a backpack or bag.
Stylish Appearance: A leather case gives your MacBook an elegant and luxurious look. This enhances the attractiveness and professionalism of your laptop, which can be an advantage for people using their MacBook for work.
Portability: Leather cases are typically lightweight and easy to carry. This means you can easily transport them in a bag, purse, or backpack without the need for a heavy and bulky briefcase.
Easy Maintenance: Leather cases are easy to clean and maintain. Simply use a leather cream to keep it looking like new.
Personalization: Leather cases come in various colors, styles, and designs. This allows users to choose a case that suits their taste and style.
What Items to Carry in Your Leather MacBook Case?
A leather MacBook case can serve as a practical accessory for your travels and work. Besides your laptop, you can carry additional items in your leather case, such as:
Charger: Carry your MacBook charger in the leather case, keeping everything you need in one place and reducing the risk of losing or damaging the charger.
Documents and Cards: Store your documents and credit cards in the leather case, ensuring you always have them with you and reducing the risk of loss or damage.
Mobile Phone: If you have a smaller mobile phone, you can store it in the leather case along with your MacBook and other items, keeping everything you need in one place.
Small Notebook and Pen: If you're usually taking notes, you can place a small notebook and pen in your leather case, ensuring you have all your essentials in one place.