A keychain everywhere I look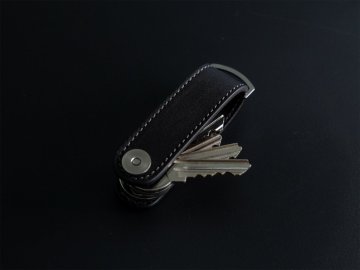 There's a leather keychain everywhere I look. That's how we could describe our two product innovations. Last week, we introduced a loop-style keychain based on our first and, until recently, only keychain. We offer it with matte silver or matte black hardware. For those who love black, we also have a variant where the stitching is black, so don't look for any other color on the keychain.
We call the second leather keychain compact because that is exactly what it has. It organizes your keys beautifully, keeps them together, doesn't jingle in your pocket, and looks elegant. You can have the key ring in our classic color combinations of full-grain leather from Italy - dark brown or tobacco with blue stitching, black with gray stitching and light brown or cognac with blue stitching.
Both leather keychains can be personalized with your logo or name. We also now offer personalization with gold or silver foil. So, you can make keychain with your name.