How to take care of leather products?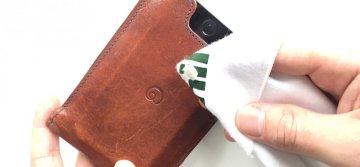 Everything we make is meant to stay by your side for several years, if not decades. And rest assured these years will be worth it, because the Italian leather we use has one brilliant feature -- it ages into beauty.
It's only natural for quality leather to patinate; however, just like other organic materials it's highly sensitive to environmental influences. Rain, dust, sweat, sun rays, all that can lead to a shortened lifespan of your leather product.
For these reasons, taking good care of your wallet, bag, belt or any other piece of leather accessory is worth the time and energy invested.
#1: Get rid of dirt
Pipe enthusiasts love the cleaning ritual which breathes life into their wooden treasures. Why not develop a similar habit if you're a leather fan? There's no point in waiting for leather to get visibly dirty. Pores of even an impregnated product tend to clog with invisible dirt, so the sooner you remove it the better it is for the product's lifespan.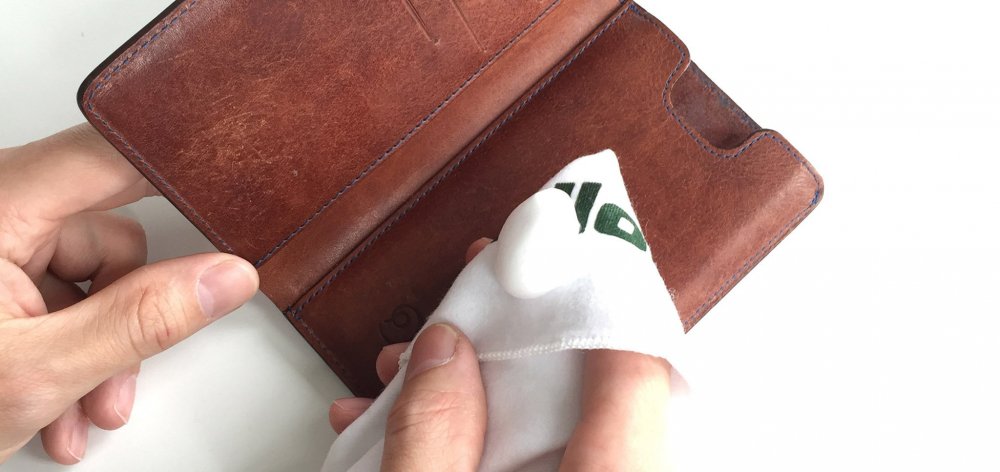 After the procedure, let the product dry naturally.
If the product is not extremely dirty (e.g. covered with mud, wine or the BBQ sauce you had with your nachos last night), a solid cleaning foam with a cloth will do. Don't forget to put the foam on the cloth first before applying to the product to avoid stains that might otherwise appear. After the procedure, let the product dry naturally. Don't use a hairdryer, and don't put it onto a heater.
#2: Nourish it
While moisture from the great outdoors isn't good for the material, inner moisture, which is a natural feature of leather, is critical for its "healthy" look and elasticity. To that end, it is important to nourish your leather products regularly. (Over the years, we've had the best experience with Collonil Silicon Polish colorless cream).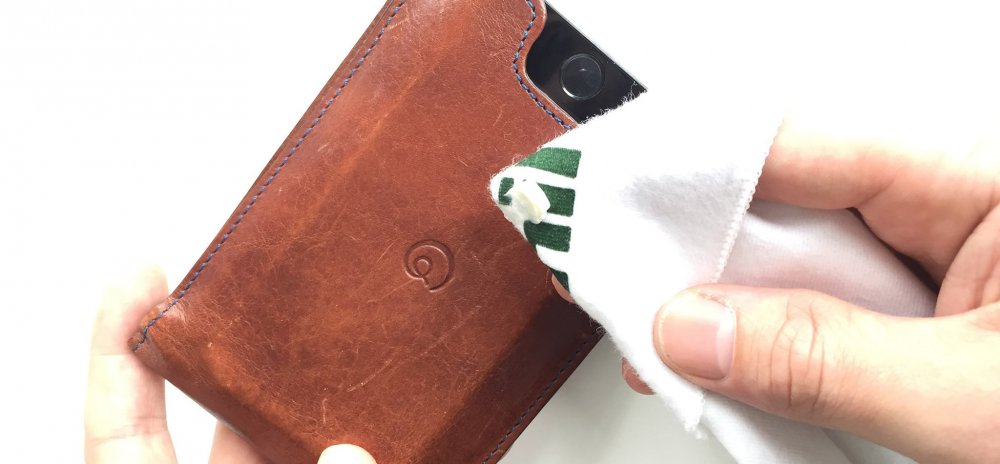 Cream also helps you to cover minor scratches.
Creaming not only nourishes the leather but prevents it from drying up visibly as it ages. Although it would take several years, there's no reason to worry that you'll have to get a new wallet if you forget to cream it for a month or two. As you might know, the full-grain leather we use is known for its natural look and structure, which goes hand in hand with slight deviations in color. Applying the cream on a regular basis will help develop a single-tone color and cover minor scratches that appear when, for example, you carry a wallet in your bag along with a bunch of keys.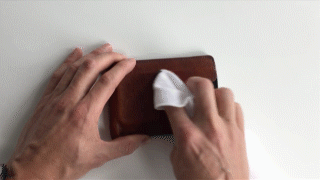 Apply it with a clean cloth in quick circular motions.
Finally, here's something you might find useful prior to applying the cream: don't fully cover the product in it. Use the cream in several small doses and apply it with a clean cloth in quick circular motions to end up with an equally thick layer of cream all over the product's surface.
#3: Spray it
Regular use of a high-quality spray (from our experience, we can recommend Collonil Carbon Pro) protects a leather product against grease, moisture and dirt. This is essential for accessories and clothing that often come into direct contact with rain, snow or sunshine.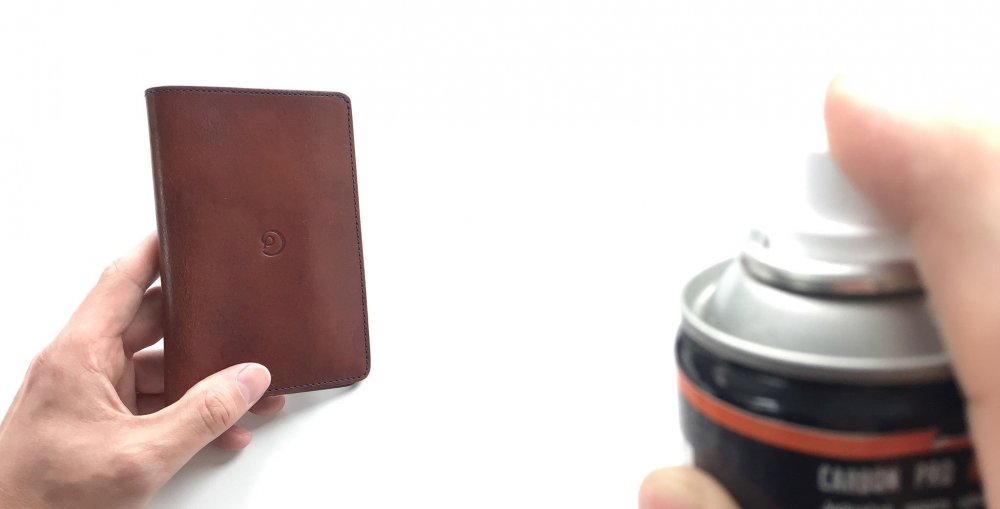 Apply the spray to the product from 8 to 12 inches away.
The spray will block the leather's pores and creates an invisible protective layer on its surface. Collonil Carbon Pro, which is what we use at Danny P., goes even as far as covering the product with a semipermeable membrane. This membrane lets the material "breathe" while keeping dirt away.
It might be a good idea to remind ourselves that impregnation is never permanent. You should repeat it depending on how often you use the product. After applying the spray to the product from 8 to 12 inches away, let the product dry naturally. This can take from a few hours up to a day.
#4 Gloves
Soapy water can be used for cleaning. Just put on your gloves and rub them with gentle movements, as if you were washing your hands. Allow gloves to dry slowly, never using a direct heat source (hair dryer, heater, etc.). After soaking, the skin darkens slightly and hardens, but when worn again, it becomes supple again. In the case of more frequent washing, it is possible to rub a small amount of natural beeswax into the leather. Avoid using any other leather products!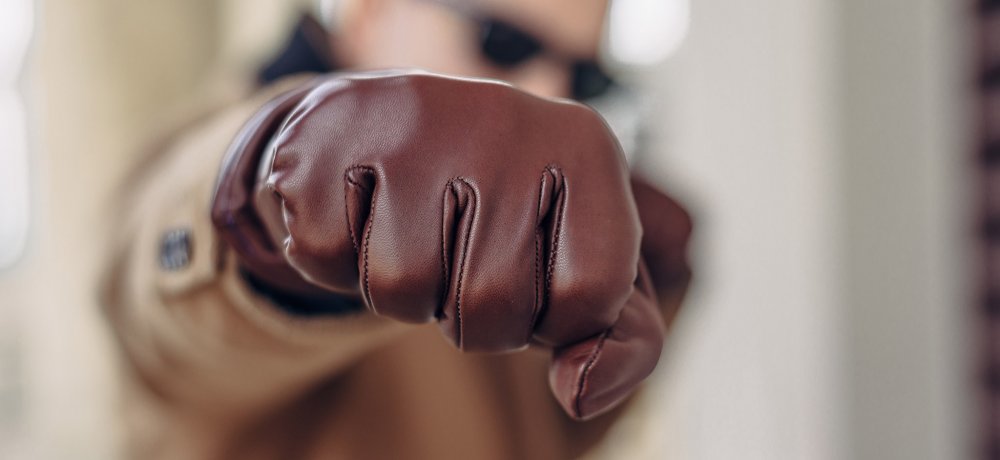 #5: One final tip
At Danny P., we pride ourselves on combining top quality with timeless design, which makes both you and your Danny P. product #BetterEveryDay. So if we could ask you for something -- don't clean our products with ordinary soaps or washing liquids. After a few years of quality care techniques, they'll thank you!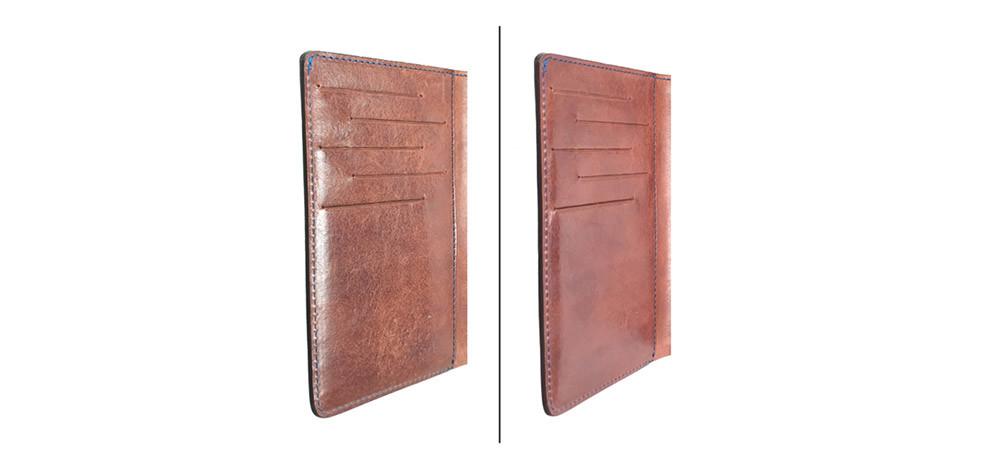 BEFORE | AFTER